Molecular and Cellular Basis of Diseases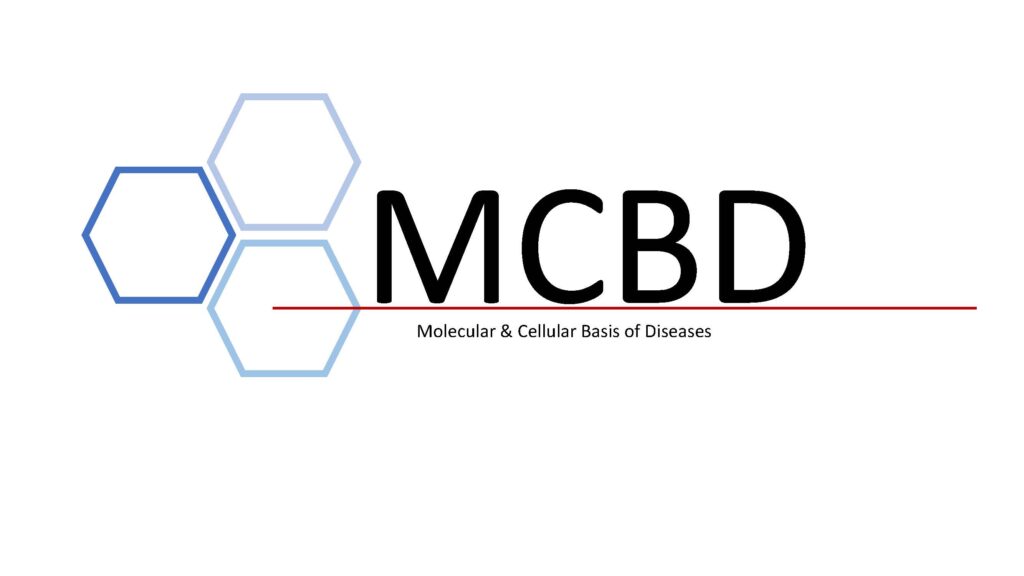 The Molecular and Cellular Basis of Diseases (MCBD) PhD program has been successfully running since 2002 and provides excellent training opportunities for students from all over the world. As a PhD student you will have the opportunity to work on exciting research projects in biochemistry, molecular cell biology, and oncology, including aspects of anticancer-immunity.

The multi-disciplinary nature of our program combines basic hypothesis driven research with clinical research and will allow you to acquire a broad skill-set to launch your successful career in basic and applied biomedical sciences.

Your research project will be supervised by one of your faculty members and a PhD committee. Comprehensive training is accomplished through a core curriculum that includes selected lectures and hands-on methods courses. A dynamic seminar program with presentation and discussion of research projects complements this training plan. Direct interactions with your peers and faculty are part of the daily live in the MCBD-affiliated laboratories throughout the year at the Medical University of Innsbruck.

A special research focus within MCBD is the FWF funded PhD program Cellular Basis of Diseases (CBD) with its interdisciplinary PhD projects on the molecular control of metabolism & inflammation. More information on the CBD PhD program can be found here.

Lectures and Courses
MCBD Students
MCBD Faculty
Matthias Erlacher
GEG Program Coordinator
Biocenter, Genomics and RNomics

Tel.: +43(0)512/9003-70256
matthias.erlacher@i-med.ac.at
personal website »

Patrizia Stoitzner
Program Coordinator (MCBD)
Dermatology and Venereology

Tel.: +43 50 504 23016
patrizia.stoitzner@i-med.ac.at

personal website »

Verena Labi
Developmental Immunology

Tel.: +43 512 9003 70364
verena.labi@i-med.ac.at

personal website »

David Teis
Program Coordinator (CBD)
Biocenter, Cell Biology

Tel.: +43 512 9003 70191
david.teis@i-med.ac.at

personal website »

Susanne Kaser
Program Coordinator (CBD)
Internal Medicine II

Tel.: +43 50 504 23539
susanne.kaser@i-med.ac.at

personal website »

Michael J. Ausserlechner
Paediatrics I

Tel.: +43 512 504 27748
michael.j.ausserlechner@i-med.ac.at

personal website »


Gottfried Baier
Translational Cell Genetics

Tel.: +43 512 9003 70514
gottfried.baier@i-med.ac.at

personal website »

Martin Bodner
Legal Medicine

Tel.: +43 512 9003 70621
martin.bodner@i-med.ac.at




Gerald Brosch

Biocenter, Molecular Biology

Tel.: +43 512 9003 70211
gerald.brosch@i-med.ac.at
personal website »

Stefan Coassin
Division of Genetic Epidemiology

Tel.: +43/512/9003 70576
stefan.coassin@i-med.ac.at




Zoran Culig
Urology

Tel.: +43 50 504 24717
zoran.culig@i-med.ac.at

personal website »

Sandrine Moreno Dubrac
Dermatology

Tel.: +43 50 504 23025
sandrine.dubrac@i-med.ac.at

personal website »

Theresia Dunzendorfer-Matt
Institut für Biologische Chemie

Tel.: +43 512 9003 70349
Theresia.Dunzendorfer-Matt@i-med.ac.at




Hesso Farhan
Biocenter, Pathophysiology

Tel.: +43 512 9003 70360
hesso.farhan@i-med.ac.at

personal website »

Heidelinde Fiegl
Gynecology and Obstetrics

Tel.: +43 50 504 23113
heidelinde.fiegl@i-med.ac.at

personal website »

Bernhard Flucher
Division of Physiology

Tel.: +43 512 9003 70836
bernhard.e.flucher@i-med.ac.at

personal website »

Stephan Geley
Molecular Pathophysiology

Tel.: +43 512 9003 70365
stephan.geley@i-med.ac.at

personal website »

Can Gollmann-Tepeköylü
Universitätsklinik für Herzchirurgie

Tel.: +43 50 504 22501
can.gt@i-med.ac.at




Stefan Grässle
Biocenter, Molecular Biology

Tel.: +43 512 9003 70218
stefan.graessle@i-med.ac.at




Hubertus Haas
Biocenter, Molecular Biology

Tel.: +43 512 9003 70205
Hubertus.Haas@i-med.ac.at

personal website

Hubert Hackl
CCB, Bioinformatics


hubert.hackl@i-med.ac.at

personal website »

Judith Hagenbuchner
Paediatrics II

Tel.: +43 512 504 81578
judith.hagenbuchner@i-med.ac.at

personal website »

Johannes Haybäck
Pathology, Neuropathology and Molecular
Pathology

Tel.: +43 512 9003 71300
johannes.haybaeck@i-med.ac.at
personal website »

Ludger Hengst
Biocenter, Medical Biochemistry

Tel.: +43 512 9003 70110
ludger.hengst@i-med.ac.at

personal website »

Christine Heufler-Tiefenthaler
Dermatology, Venereology and Allergology

Tel.: +43 50 504 23043
christine.heufler@i-med.ac.at



Johannes Holfeld
Cardiac Surgery

Tel.: +43 50 504 22501
johannes.holfeld@i-med.ac.at

personal website »

Lukas Huber
Biocenter, Cell Biology

Tel.: +43 512 9003 70170
lukas.a.huber@i-med.ac.at

personal website »

Alexander Hüttenhofer
Biocenter, Genomics and RNomics

Tel.: +43 512 9003 70250
alexander.huettenhofer@i-med.ac.at




Markus Keller
GEG Program Coordinator
Biochemical Genetics

Tel.: +43 512 9003 70550
markus.keller@i-med.ac.at
personal website »

Natascha Kleiter
Translational Cell Genetics

Tel.: +43 512 9003 70528
natascha.kleiter@i-med.ac.at

Personal Website »

Florian Kronenberg
Genetic Epidemiology

Tel.: +43 512 9003 70560
florian.kronenberg@@i-med.ac.at

personal website

Fabio Gsaller
Institut für Molekularbiologie

Tel.: +43 512 9003 70224
E-Mail: Fabio.Gsaller@i-med.ac.at

personal website

Claudia Lamina
Division of Genetic Epidemiology

Tel.: +43 512 9003 70565
claudia.lamina@i-med.ac.at

personal website »

Alexandra Lusser
Biocenter, Molecular Biology

Tel.: +43 512 9003 70210
alexandra.lusser@i-med.ac.at

personal website »

Florentine Marx-Ladurner
Biocenter, Molecular Biology

Tel.: +43 512 9003 70207
florentine.marx@i-med.ac.at

personal website »

Alexander Moschen


alexander.moschen@kepleruniklinikum.at





Thomas Müller
Pediatrics I

Tel.: +43 50 504 23501
thomas.mueller@i-med.ac.at

personal website »

Herbert Oberacher
Legal Medicine

Tel.: +43 512 9003 70639
herbert.oberacher@i-med.ac.at

personal website »

Gerald Obermair

Division of Physiology

Tel.: +43 512 9003 70841
gerald.obermair@i-med.ac.at
personal website »

Petra Obexer
Paediatrics II

Tel.: +43 50 504 25439
petra.obexer@i-med.ac.at

personal website »

Walther Parson
Legal Medicine

Tel.: +43 512 9003 70651
walther.parson@i-med.ac.at

personal website »

Andreas Ritsch
Internal Medicine I

Tel.: +43 512 504 23252
andreas.ritsch@i-med.ac.at

personal website »

Oliver Schmidt
Institut für Zellbiologie

Tel.: +43 512 9003 70189
Oliver.Schmidt@i-med.ac.at




Matthias Schmuth
Dermatology, Venereology and Allergology

Tel.: +43 50 504 24801
matthias.schmuth@i-med.ac.at

personal website »

Stefan Schneeberger
Visceral, Transplantation and Thorax Surgery

Tel.: +43 50 504 22604
stefan.schneeberger@i-med.ac.at
personal website »

Sebastian Schönherr
Division of Genetic Epidemiology

Tel.: +43 (0) 512 9003 70579
sebastian.schoenherr@i-med.ac.at

personal website »

Hubert Schwelberger
Visceral, Transplant and Thoracic Surgery

Tel.: +43 512 9003 71362
hubert.schwelberger@i-med.ac.at

personal website »

Jörg Striessnig
LFU/Pharmacology & Toxicology

Tel.: +43 512 507 58800
joerg.striessnig@uibk.ac.at

personal website »

Ivan Tancevski
Internal Medicine II


ivan.tancevski@i-med.ac.at

personal website »

Igor Theurl
Internal Medicine II

Tel.: +43 50 504 25606
igor.theurl@i-med.ac.at

personal website »

Zlatko Trajanoski
Biocenter, Bioinformatics

Tel.: +43 512 9003 71401
zlatko.trajanoski@i-med.ac.at

personal website »

Jakob Troppmair
Daniel Swarovski Research Laboratory

Tel.: +43 50 504 27819
jakob.troppmair@i-med.ac.at

personal website »

Ilja Vietor
Biocenter, Cell Biology

Tel.: +43 512 9003 70175
ilja.vietor@i-med.ac.at

personal website »

Andreas Villunger
Developmental Immunology

Tel.: +43 512 9003 70380
andreas.villunger@qf1222i-med.ac.at

personal website »

Dorothee von Laer
Virology

Tel.: +43 512 9003 71700
dorothee.von-laer@i-med.ac.at

personal website »

Katrin Watschinger
Biocenter, Biological Chemistry

Tel.: +43 512 9003 70344
katrin.watschinger@i-med.ac.at




Günter Weiss
Internal Medicine II

Tel.: +43 50 504 23251
günter.weiss@i-med.ac.at

personal website »

Ernst R. Werner
Biocenter, Biological Chemistry

Tel.: +43 512 9003 70340
ernst.r.werner@i-med.ac.at

personal website»

Gabriele Werner-Felmayer
Biocenter, Biological Chemistry

Tel.: +43 512 9003 70341
gabriele.werner-felmayer@i-med.ac.at

personal website »

Doris Wilflingseder
Hygiene/Medical Microbiology

Tel.: +43 512 9003 70704
doris.wilflingseder@i-med.ac.at

personal website »

Heinz Zoller
Internal Medicine I

Tel.: +43 50 504 23539
heinz.zoller@i-med.ac.at

personal website »

Johannes Zschocke
Human Genetics

Tel.: +43 512 9003 70500
johannes.zschocke@i-med.ac.at

personal website »

Albert Amberger
Human Genetics

Tel.: +43 512 9003 70548
albert.amberger@i-med.ac.at

personal website »

Christoph Ebenbichler
Internal Medicine I

Tel.: +43 50 504 23298
christoph.ebenbichler@i-med.ac.at

personal website »

Iris Eder-Neuwirt
Urology


iris.eder@i-med.ac.at

personal website »

Engler Clemens

clemens.engler@i-med.ac.at

Supervisor: Ebenbichler Christoph




Francesca Finotello
CCB, Bioinformatics

Tel.: +43 512 9003 71412
francesca.finotello@i-med.ac.at

personal website »

Manfred Grabner
Molecular and Clinical Pharmacology

Tel.: +43 9003 70407
manfred.grabner@i-med.ac.at

personal website »

Bernhard Haubner
Internal Medicine III

Tel.: +43 50 504 23539
bernhard.haubner@i-med.ac.at

personal website »

Arno Helmberg
Molecular Pathophysiology

Tel.: +43 512 9003 70366
arno.helmberg@i-med.ac.at

Personal Website »

Andreas Janecke
Paediatrics I

Tel.: +43 50 504 23791
andreas.janecke@i-med.ac.at

personal website »

Andreas Pircher
Internal Medicine V

Tel.: +43 50 504 24003
andreas.pircher@i-med.ac.at

personal website »

Wilfried Posch
Hygiene/Medical Microbiology

Tel.: +43 9003 70706
wilfried.posch@i-med.ac.at

personal website »

Sabine Rudnik
Human Genetics

Tel.: +43 512 9003 70502
sabine.rudnik@i-med.ac.at

personal website »

Natalie Sampson
Urology


natalie.sampson@i-med.ac.at

personal website »

Frederic Santer
Urology


frederic.santer@i-med.ac.at

personal website »

Klaus Scheffzek
Biocenter, Biological Chemistry

Tel.: +43 512 9003 70330
klaus.scheffzek@i-med.ac.at

personal website »

Iraida Skvortsova
Radiotherapy and Radio-Oncology

Tel.: +43 50 504 27758
ira.skvortsova@i-med.ac.at

personal website »

Sieghart Sopper
Internal Medicine V

Tel.: +43 50 504 26332
sieghart.sopper@i-med.ac.at

personal website »

Georg Vogel
Pediatrics I

Tel.: +43 50 504 23501
georg.vogel@i-med.ac.at

personal website »

Katharina Wimmer
Human Genetics

Tel.: +43 512 9003 70513
katharina.wimmer@i-med.ac.at

personal wbsite »

Dominik Wolf
Internal Medicine V

Tel.: +43 50 504 23410
dominik.wolf@i-med.ac.at

personal website »

Guido Wollmann
Virology

Tel.: +43 512 9003 71742
guido.wollmann@i-med.ac.at

personal website »